When we first heard about local couple Colin and Sue McNorton's plan to take their mountain bikes to the USA and ride 1000 miles across the very challenging trail known as The Great Divide, other than thinking they were crazy, we thought that it would be a great opportunity to put Gibbs Brand to the test. After meeting with them, the couple kindly agreed to make the trip with nothing but Gibbs to lubricate and protect their bikes! This was a great leap of faith for them as they were to be travelling with very little back-up in extremely challenging conditions, negotiating everything from scorching  desert to high mountain passes. The reliability of their machines was of paramount importance!
The full story of the trip and their adventures on the way have been documented in their fascinating  blog
Prior to the trip, their bikes were fully prepared and serviced by local independant mountain bike specialist Liam Brook of Newdales Cycles. Other than grease in the bearings, the only lubricant used was Gibbs Brand, a small amount of which was taken to apply en-route.
Gibbs was used in several distinct applications on their bikes. Firstly gear and chain lubrication; After thorough cleaning of the gears and the fitting of a new chain, both were thoroughly lubricated with Gibbs. (This was the only lubricant used throughout the trip) Secondly, all mechanisms such as brake and gear shift linkages were again only lubricated with Gibbs. It was also used to internally lubricate the gear and brake cables. Lastly the entire bikes (with the exception tyres and brake discs) were treated to an application of Gibbs, by simply wiping over with a cloth. This not only made them look great, but would help to keep them clean.
Upon their return to the UK, after their marathon trip, (which unfortunately had to be shortened by a week because of forest fires in the record high temperatures), Colin and Sue were pleased to report that "Other than a couple of punctures, our machines performed faultlessly and the only maintenance was the occasional squirt of Gibbs to the chains" The bikes were returned to Newdales  for inspection, to find out just how well they had performed.
NEWDALES INSPECTION RESULTS:
1. VISUAL INSPECTION:
The bikes were initially visually inspected. Liam commented on how clean the bikes were (they had not been cleaned throughout the trip).He would normally have expected to see a considerable build up of dirt and contaminants (including sweat!) all over the bikes.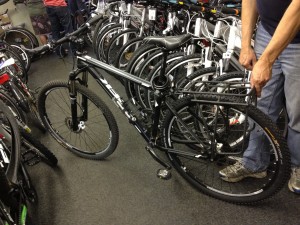 2: CHAIN AND GEAR INSPECTION:
After stripping-out, both the gear cassette and chain were cleaned, inspected and checked for wear. Both were found to have remained very clean, with very little build-up of dirt and contamination. They also were found to have little or no measurable wear. (A replacement of the chain would normally be expected after this mileage in these conditions)
3: MECHANISMS & CABLES:
After checking, all mechanisms, including brake and gear cables were found to be smooth in operation and free from ingress of dirt and moisture
CONCLUSION
The bikes were independently  inspected after a documented 700 mile trip across very varied terrain (including desert) in a wide variety of weather conditions (from extreme heat to rain).
They had performed faultlessly and required very little en-route maintenance.
Gibbs Brand had been used as the only lubricant. "The wear on the chain in particular was found to be extremely low. All the mechanical components had remained in perfect working order with little ingress of dirt"
The bikes had also stayed amazingly clean and presentable in appearance throughout the entire trip.
*This is more positive proof that the unique formula of Gibbs Brand makes it the ideal all-round protection for your bicycle!  Don't just take our word for it – read what Colin and Sue had to say in their Blog!
Foot note: *We at Gibbs Brand would like to sincerely thank both Colin and Sue for their co-operation in this project and for showing such faith in our product. Thanks also to Liam at Newdales Cycles for his assistance with servicing and inspection.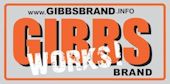 Do we need to say more?