Follow Hertfordshire couple Colin and Sue McNaughton on their adventures riding one of America's greatest cycling challenges:- The Great Divide
There will be regular updates, plus you can follow their progress via Spot-me .
They are travelling approximately 1000 miles, starting in the blistering heat of New Mexico and finishing in the snow capped mountains of Colorado. Their challenge is immense, not only facing all types of terrain and weather, but also hazards such as rattle snakes and brown bears!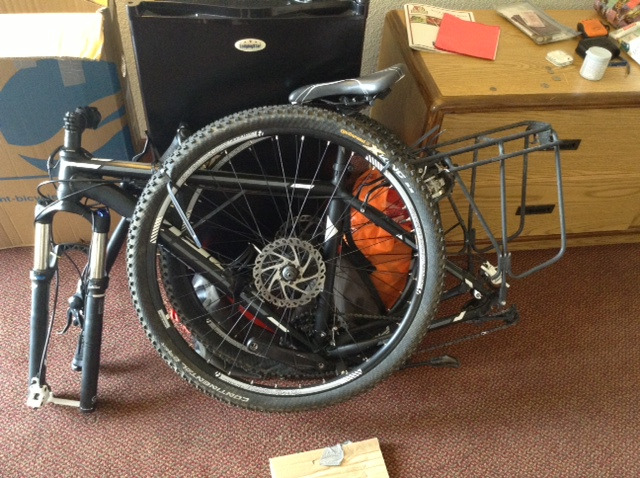 Bikes arrive intact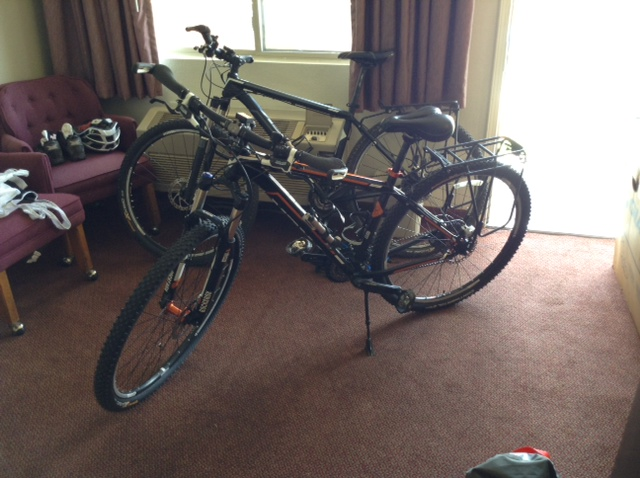 Nearly ready, just need some supplies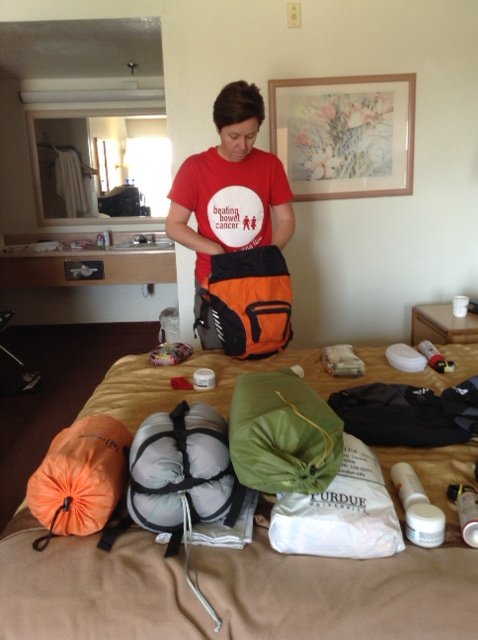 Now where did I put the toothbrush?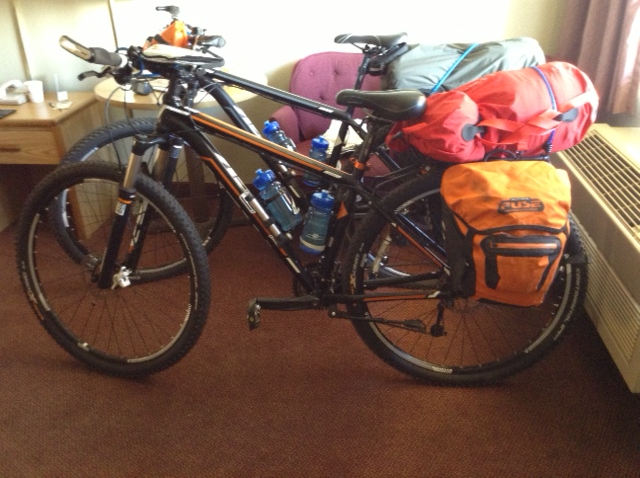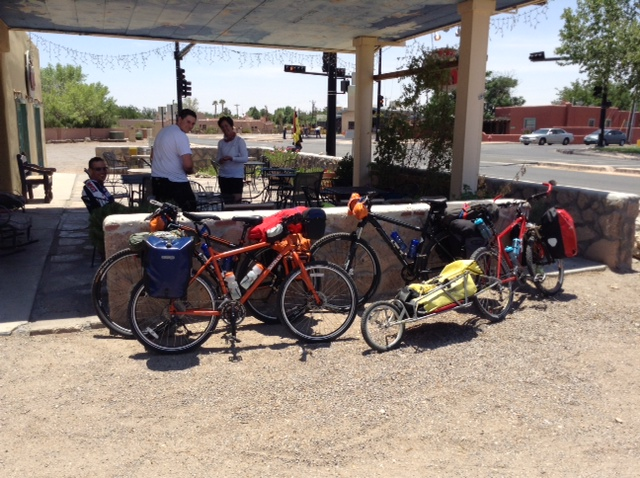 Just A quick Costa coffee before we start
The mountain bikes that they are riding have been prepared by Gibbs Brand stockist Liam Brook of Newdales Cycles in Saffron Walden. Gibbs Brand has been used on virtually every part of the bikes to offer both lubrication and protection on this massively punishing trip. At the end of the trip, the bikes will be returned to Liam for full evaluation so stay-tuned!
JULY 3rd 2013
The first week or so of our trip has had to take on a different shape as the American guy who was supposed to be supporting us has had to pull out on health grounds, leaving us completely self supported (as you will see from the kit loads onto the bikes) 
Notwithstanding this, the incredible temperatures here at the moment has resulted in numerous forest fires across the western states ( I'm sure you have seen the sad news of the deaths of the 19 firefighters north west of phoenix) and the area around silver city where we were planning on picking up the divide route as per my previous mail so we have had to look to re route on a day by day basis. 
Today was our first days riding from El Paso to las cruces which went surprisingly well given the changes to bike weight and the temperatures but the route was going to be the same as previously planned. 
The revised plan at the moment (currently still being discussed and to be confirmed) is to cycle to hatch tomorrow as previously planned but from there to start heading pretty much directly north off road as much as possible with the target being Albuquerque where chris and tommy (our two English companions) have a flight booked home. 
From here, at the moment, sue and I, complete with rations and stove in tow (we are planning on taking over the bob trailer from chris and tommy) will look to head north west and pick up the divide from there but with constant evaluations of risk based on our situation relative to the weather and the fact we will be unsupported. 
We have certainly decided that all camping will be site based rather than wilderness but that won't make a huge difference to original plans in tema of needing to cook and fend for ourselves as some of the sites are still pretty remote. 
The ultimate goal still remains to get to steamboat for no other reason than that was the original plan but with mikes withdrawal just days before departure, as I'm sure you can imagine, our plans fell into a state of if not disarray, something close to it! 
That's about it for the mo, signing off as very hungry, speak soon.
Day 2's cycling
A tough days cycling today along desert roads, 41 miles from las cruces to hatch….ahhh, hatch, more about hatch in a minute or two.
Temperatures up around 36c today so pretty hard work but we have all arrived safely and having checked into the only motel (I use the term motel very loosely as we were moments from deciding that camping by the side of the road would have been an infinitely more agreeable alternative) we are settled
picture the nastiest horror movie with the cheapest, crappiest motel you can imagine and that might get you a little close, the flip flops are coming in handy for not walking on the carpet if you can call it that with all the fag burns, dead cockroach in the toilet and all.
All part of life's rich tapestry i suppose but we are currently sitting out front in plastic wicker chairs laughing about it so it cant be all bad!!
the helper at the lodgings we'll call them has already been christened scary Pete – a man of few words and those he does have are just intimidating so an early start tomorrow is on the cards!!
along the ride today we had a number of encounters with "pet" dogs ranging from pit bulls under trailers, oops sorry, mobile homes to akita's, mastiffs and the like, a far cry from the trappy little chihuahua's of El Paso.
about 10 miles in we stopped for a quick bite from the panniers and a check of the map and the most amazing thing happened – a humming bird flew up to sue, hovered for a second or two in front of her face and flew off, it cant have been more than 12 inches from her nose – incredible (the humming bird not her nose)
around 25 miles in we came across a border crossing check point and had to stop. the guard was as nice as anything and was really interested in our trip, asking lots of questions and declaring us mad but giving us huge respect or the undertaking, albeit a revised one.
sue commented on his beautiful teeth and i must say he looked identical to tom cruise in risky business 🙂
road kill today included a snake, a coyote, various rodents, two skulls, birds and something particularly flat that none of us could identify!!
Everyone we had spoken to prior to hatch had said you need to go to sparkys restaurant, even the border guard recommended it to us – a proper bbq joint with pulled pork, ribs etc all done in their own pit so you can imagine our horror when we arrived in town to find out they were closed on Wednesdays and with tomorrow being the 4th July, they are closed then too, nightmare.
We ended up at the only place in town open which wasn't too bad in the end and cheeseburger and fries went down really well after the effort of the days ride.
whats the plan for tomorrow? definitely camping and as a result of our necessary diversion due north for the moment we are looking to stay at a campsite at elephant butte lake, approximately 45 miles north of here but given its the 4th tomorrow we are going to check availability in the morning and change plans accordingly if required.
other than that not much else to report other than the bikes are rolling like a dream (duncan) despite the heavy loads and temperatures, we are all coping well physically given its the first couple of days but the climbing is yet to come so it might well be a little early for too much optimism.
managed to get some ready mixed margarita from a liquor store just around the corner (surprise surprise) so sipping happily and signing off till tomorrow or next time wifi is available (not in this flea pit!!)
Day 3
Woke up in hatch, so glad we woke up, scary Pete had not managed to get past the door lock, chain, two bikes and various pieces of kit piled up behind the door and even if he had (assuming he would have woken me) he would have got a face full of bear spray (mace) for his troubles!!
Needless to say there was no breakfast at the hotel (like we would have eaten it if there were!) so we headed off kind of early around 8am out of dodge, oops I mean hatch with one of the camp sites up at caballo lakes our destination, around 30 miles away which with the rising temperatures knocking around 40c, is a decent days riding physically.
We are all being very sensible with a number of short stops along the way and carrying around 5 litres of water each which disappears at a remarkable rate of knots (thankfully as it weighs loads) and is usually gone by the end of the days riding even with stops for cold coke whenever it's possible, there seem to be the occasional store along the route and given we are heading north now to get above the fires to the west at our original divide starting point of silver city, its a good thing we are lowering ourselves into it sort of gently.
Our original mileage plan was for 30 miles a day for the first week to acclimatise and we have been exceeding that and feeling pretty good with it so that's a very promising place to be.
We made it Persha dam campsite which was the one that had been recommended to us as it had shade and we found a nice spot down by the river under the trees to give us the shade we craved.
The only problem with heat, rivers and trees is the mossies!! Bite city but the deet we had bought kept a lot of them at bay.
The part ranger was a 77 year old named ray and he took us under his wing as soon as we arrived, even taking me down to the local bar so I could get a case of Budweiser and a bag of ice to make the 20 cent packet of chicken noodles cooked on a stove one a a time taste a little better.
The bar he took me to was one of those where all the windows were blacked out and I insisted that he came in with me.
You can already picture the scene I bet, in walks me (behind ray, I'm not totally stupid) and every face in the place ( all 7 of them) turns round for a good old stare. It's pitch black in there so it takes my eyes a while to adjust and as they do I deliver a hearty "afternoon all"
Ray tells the slightly ageing bar lady (had to be 105 if she was a day) that this young man would like to buy some beer so I try and spark up a conversation with a woman who doesn't understand my accent and I don't understand hers whilst the second patron along the bar points at me and says (enquires) – AUSTRALIAN?
Now that's the 4th time I've been taken for an Aussie this trip and its starting to get to me especially with the ashes coming up! 🙂
I struck up a conversation with him and we had a laugh about his lack of international accent knowledge and I discovered that walking into a strange bar full (ok, only 7 of them, I know, I said earlier) of tobacco chewing good ol' southern folk doesn't necessarily have to be scary.
So, dinner of chicken flavoured noodles and a harvest crunch bar for pud went down all the smoother as a result of mr Budweiser and his 11 identical friends (between us, not each) and an early night ensued in our newly acquired tent and sleeping bags.
Now I know you're all concerned as to how we slept – rubbish! Very hot and humid and insecty noisy but hey, that's camping sometimes.
Porridge and coffee from the stove for breakfast and we were on our way.
Had first puncture today and it was me and it was those blasted goat head thorns everybody warns about!!! Not to worry though, we've got latex filled tubes that fill the puncture hole immediately, hitting the air and solidifying filling and sealing the hole…..well that's the idea in a nice temperate climate like the uk – not in the hot and humid desert of New Mexico though, more like a gooey liquid that stays, well, gooey, no good to man nor beast and resulting in an inability to patch the tube as its covered in this, well, goo which goes all gooey and won't just come off but not gooey enough to fill the puncture hole – good eh?
Goat head thorns were the culprit, as we had feared they would be.
So, remedial tube action required and we therefore need to find 29er Presta valve mountain bike tubes from a non specialist retailer (that will be Walmart then) as the nearest bike shop is Albuquerque (4 days ride away) or silver city ( previous destination for starting the divide)Not good then so, we are still carrying one spare tube and have just bought a 700 road bike tube to see if we can use it as a back up, albeit an inferior one but a back up all the same given that our next ride day (rest day tomorrow with 6am start on Sunday) is going to have to be 81 miles to socorro as there is nothing in between here (truth or consequences – yup, that's really the name of the town we are in) and there.
The tube seems to be able to do a job as a back up so ill fit it tomorrow and have a little ride out to see how it copes and if it does, we will get a couple more knowing that we can't afford to be caught short on the road to socorro and in the meantime, have some proper fitting tubes shipped ahead to socorro and have a rest day there given the long ride up, making sure the tubes arrive
That's the plan at the moment anyway, we will see how it goes 🙂
Forgot to update you on the road kill count for day 3 – fairly quiet day really, one skunk, couple of skulls and a cow carcass (really don't think that was road kill but thought I would mention it all the same)
Today, Day 4 involved a load of climbing and high temperatures again but once we had packed up camp and Got on the road all felt pretty good.
Check out the picture of the really weird scorpion looking thing that had a little wander through camp this morning as we were packing up, very strange.
24 miles today, felt liked a little more but all good and we are both definitely feeling fitter as each day goes by.
Road kill return today very small but really cool – a whopping great tarantula!
I suppose I could have run over the scorpion looking thing myself and pretended it was road kill but that would be cheating and not very nice!
That's about all folks, so, we are currently in truth or consequences, have a rest day tomorrow and are heading out early on Sunday for long days ride but plan to then have a rest day in socorro to recover.
Hope you are all well and all your emails and replies are great to receive and really help and don't forget to spread the word about the virgin giving site virginmoneygiving/colinmcnaughton
Following are some piccies for you from the past couple of days which we hope you like..
 Day 6 Riding', Day 7 Resting
Greetings and salutations from sunny Socorro – yup, we damn well made it 🙂
One hell of a day today which started at 5am and finished in our arrival in secorro at half 6 this evening.
82 miles of grind, loads of up hill and 40c temperatures, no shade, 7litres of fluids and a coffee ice cream.
Let me expand 🙂
Last night we decided to eat early at the steakhouse opposite the hotel and as we walked over through the car park we saw a car with a 29er mountain bike on the roof looking like it was a little worse for wear but it was a top quality bike.
We had a laugh and said we should try and identify the owner inside as he might have some spare tubes we could buy off him and put our minds at rest.
Sue was voted to take control of the challenge and found the guy with ease but, unbelievably, when she came back to the table to report what she had found out, unbelievably he was a competitor in the tour divide race which had jus finished and he had just arrived from the finish in antelope wells so was able to give us some up to date information on the fires and the state of the divide route further north where we are planning to join it next week north of Santa Fe – what a lucky result!
Back to the hotel for an early night s all wrapped up by half 8 in preparation for a long day tomorrow.
We set out from our hotel in truth or consequences as planned around 6.30 this morning as you will have seen if you are following the spot me satellite tracker and the weather was just perfect, nice and fresh, little wind and virtually no traffic as we were following the old road rather than the interstate (for obvious  reasons!)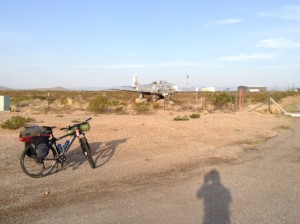 It's a boy thing – it was at the entrance to truth or consequences local airport and I liked it 
What we did find out very early on was that it was looking like a day of up rather than a day of down and I don't mean mood I mean geographically!
From about the 2nd mile onwards we started to climb and with the odd exception, up to about mile 20, it felt like the route was dominated by small free wheels down and 4 times as long slogs up, we were very grateful that we had started early so we had the weather on our side.
The other big thing we were starting the realise was the lack of shade and with the forecast suggesting temperatures touching 40 mid afternoon and 80 miles to cover, we needed to get our heads down and rolling.
Nothing too much to describe to you further that you won't get from some of the pictures attached other than heads down, heat, straight undulating roads.
A couple of canyon climbs which weren't fun in the midday heat with around 8% climbing the speedo was down to 4mph max and it was just a slog with a loaded bike, the sheer relief of getting to the top and seeing a section of flat roar was enormous.
As the day rolled on the temperature seemed the climb and climb with a little breeze being generated from our forward motion being the only relief from the heat, whenever we stopped briefly for a snack we couldn't stop for more than a minute or so as the heat would just be too much.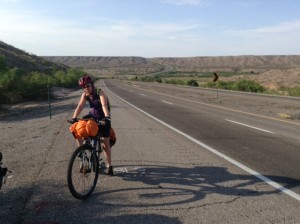 It's It's a long long road (name the song pop quizzers)
Out first real destination en route was a town called San Antonio which was around 10 miles short of our goal of Socorro, so 70 miles had to be done unless we were to camp on the roadside in the heat of the desert.
Just short of San Antonio (8 miles) we passed through a piece of land called the apache wildlife refuge and things were getting tough for us but, as in all good films, we saw a sign for the visitors centre 5 miles ahead so we used this as a target, hoping that it would be open and offer some refuge from the heat as everywhere out here seems to have air con!
It was!!! Yay, relief, rest rooms with cold water (drinking warm water with electrolyte for hours on end is what you are doing and should be doing but not what you enjoy doing) and when we walked int the visitor centre they had a fridge full of cold drinks and snacks (for snacks read chocolate) had we died and gone to heaven?
A break of 45 minutes here to get body temperature down and cold drinks and snacks inside us (nature valley bar after nature valley bar can get a little boring although we did have some beef jerky with us too) was a very welcome relief, what we also got here was a chance to sit by a viewing window and watch humming birds feeding at really close quarters – they were on the migratory path apparently which was a really cool bonus.
San Antonio was 8 miles down the road and from there only another 10 to our destination.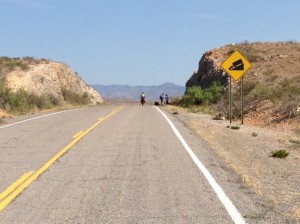 Just a cool picture I thought, of sue on her bike with chris and tommy stopped and resting
What we learned from the very nice lady in the visitor centre was that there was a great ice cream shop in San Antonio, well, now we had a focus!! We also learned that the road was pretty flat to there so we were off like a couple of rats up a drainpipe.
The ice cream shop ended up being one of 3 buildings in this "town" and was the gas station – never a promising start but we wanted that ice cream so we were going in!
Well, let me tell you, never judge a book by its cover (then you judge the look by the lover-name the song if you can) this gas station doubled as the local store and had seats and a table for us all to sit at, had the best coffee ice cream I have ever tasted and a fan blowing cool(ish) air over us
-does it get any better than this?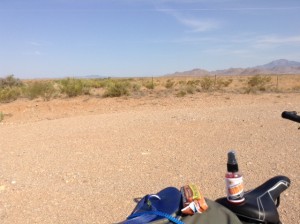 Is that my trusty sidekick Mr Gibbs I can see?                                                                 
Spirits raised and a little cloud cover coming over, the cycling gods were looking down on us and we set off for the final 10miles of the day.
The final 2 miles involved more climbing with the bonus of a roll downhill into town – what a great feeling of personal achievement from us all, one hell of a days riding and now rolling onto our destination at half six in the evening.
I was determined t stop at a liqueur store on the roll in if possible as a nice cold beer (ice cold in Alex) was going to go down beautifully at the hotel.
A vagrant man was outside the store collecting cans for recycling, you know the sot, one tooth, worse the wear for drink but he had a little twinkle in his eye and said to me that they only sold coke inside with a smile on his face.
The owner of the store sold me a dodgy bottle of rosé and a couple of large buds and said "where you ridden of from today?" I replied "truth or consequences" and he came back with " oh my goodness, uphill all the way then"  –  I think that about sums up the days riding!
One thing I forgot to mention from a few days ago, when ranger ray took me to the Bar to get mr Budweiser and his friends I tried to offer him to join us for a beer and give him $5 for petrol, oops sorry, gas. Well, needless to say we kept arguing it as he wouldn't accept so we agreed that I would give it to the next deserving homeless person I saw…you know where this is going don't you….you're right 🙂 once we came out of the store we found him a little way down the road and I made sure he got what was coming to him. To his credit he promised to spend it on something good (not the obvious, I did clarify that something good was food)
One for you mum before I forget – at the wildlife reserve we saw a rufous necked wood rail (yup, its a bird not a decking detail) – pretty damn rare by all accounts. Just thought I would throw that one in there.
On arrival at the hotel (no more camping I hear you say, they've only used their tent once – fear not little ones, we will be under the stars a fair amount once we get north of Albuquerque) we bathed and showered, got a dominos delivery (no comments Ewan!) and fell asleep with pizza hanging from our mouths around 9.
Having woken this morning around 10 – hey, enough of that, it's a rest day and I've already told you it would be so stop the judgemental thoughts 🙂 – , I know I'm writing this the day after the day before, we found ourself a cool little independent coffee shop called 110 Manzanares (not sure why you needed to know the name but I suppose if your ever passing this way you will know where to get a good coffee…and breakfast omelette….and carrot cake muffin….and homemade lemonade) where use was tasked to speak to the most knowledgeable looking patron for advice on the route tomorrow heading up to Belen between here and Albuquerque, she pointed, I nodded and that was it, three and a half hours later (I'm serious) of absolutely fascinating conversation we had worked out not only our route to Albuquerque but the following week after that and it most certainly does not now involve making any kind of b-line to Santa Fe – there is around 3,500ft difference in elevation between the two with the last 1,500ft coming from a single climb up to around 7,200ft and given we rose around 1,000 in actual elevation during yesterday's slog (far more obviously once you factor in all the ups) that would just be madness in is heat, at that elevation, with loaded bikes.
Even the highway into town has had an additional lane built into the uphill section to cater for vehicles that can't cope well with the steepness of the incline.
The man we talked with for so long, a delightful lecturer at the university here had extensive knowledge of New Mexico and we have now sorted where we are heading so will keep you informed with the spot me obviously but with my little ditties also.
So, packing and re packing today, more chilling and ill probably be in touch tomorrow.
Road kill count amounted to one old windscreen and a lizard – sorry folks 🙁
Brilliant lions, fantastic andy Murray, amazing chris froome – how about froome for the TDF, Westwood for the open and England for the ashes, McNaughton for Dornoch? Got accumulator written all over it me thinks
Few piccies below as always, keep spreading the word, sharing the updates as you wish and getting donations if you can
.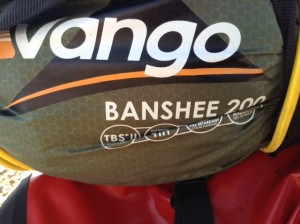 Day 8 on the road
 After our coffee shop experience we needed to bike over town to Walmart to get some water to fill the bladders and bottles so we locked the bikes up outside and bought our supplies.
Post Walmart we headed to a bar for a beer and some food (pasta) as we wanted an earlyish start in the morning (out and on the road by 8 so we could reach our destination before the worst part of the days heat.
During the pasta the heavens opened and a proper storm hit so we were stuck there for a hour or so but as it died down we cycled back to the hotel for an early night.
Set off this morning with Belen as our destination (Belen is Spanish for Bethlehem – not only am I boring you about our trip, I'm teaching you stuff as well) with the first half dozen miles a mixture of off and on road and the first experience of being chased by dogs as we passed by the trailers that seem to be so prevalent out here.
This is where my new best friend Mr Bear Spray came into his own. As you can see from the photo below of my "cockpit" I have fashioned beautifully in a Reg Prescott sort of way, my bear spray holder out or duct tape and a plastic water bottle holder from Walmart, all ready for immediate use with one hand as you can flip the safety put with your thumb as you draw the can and press just like a baby fire extinguisher.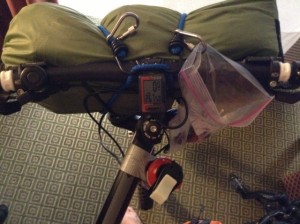 I was  certainly ready, locked and loaded as a German Shepard came charging out of his yard at me with teeth bared but I'm pleased to say I didn't need to use it as it seemed like it was a warning charge – strange to say but I just didn't feel like he was going to make contact but believe me, I would have pulled the trigger or smashed him over the head with it if I needed to.
Amazing stuff adrenalin as the next mile or so we seemed to average a much greater speed!!
Our total mileage so far is 267.58 and I got all excited as we hit 250 (sad that I am) .
Today's mileage was 49.25 which, mad as it sounds, having done the 80 odd miler felt really straightforward, I suppose we are getting more and more used to it a bit like once you've done the flight to Australia, nothing else seems like a chore.
News flash……early road kill report, numerous frogs (obviously encouraged out by the rain from last night), rabbit and a couple of snakes but no rattlers yet.
Talking of snakes, we had to take avoiding action of a live one on the road today! Around 5ft long me thinks and it was trying to cross the road in front of us.
Sue and I were riding along side by side (sweet eh) and I got the cry SNAKE! As Sue peeled off left. Carried on straight, looked to the road and this wriggly thing was suddenly between our bikes frantically looking to escape, we were passed in a flash and it made its way off the road but a really cool experience.
After about 15 miles today we had no choice but to spend the follows 12 miles on the hard shoulder of the interstate but the drivers here are, in the main, by law, pretty respectful and are required to move into the outside lane whenever they pass anything on the hard shoulder so it wasn't as bad as it might sound.
Stopped at a rest area on the interstate and saw a sign that made me smile – it said Denver was 501 miles north, pah, that'll be a breeze I thought!!! 
Few floods on the roads so some muddy puddles to cycle through but nothing major and nothing to hinder us too much.
Yard after yard we passed, once we came off the interstate and approached Belen, had big nasty dog after big nasty dog with pit bulls, rotties and mongrels dominating.
Mr bear spray came to hand 5 times today with safety off and pointed as we rode along but fortunately didn't need using, the funniest and perhaps the scariest was a pit bull that was in its yard and launched itself headlong towards us running as fast as it could, what we didn't know but soon found out was that it was on a long wire linked to a zip line above the yard and as it reached the boundary it was yanked back so hard by the limit of its wire that it left the ground and spun round a couple of times almost strangling itself.
Shouldn't laugh as it was pretty scary but believe me, mr bear spray was probably the best purchase we have made (beating chamois cream into a close second!!) and having him to hand at all times provides soooo much peace of mind I cannot properly convey it to you.
We rolled into Belen around 2pm, feeling pretty comfortable with our days work and headed for the least saturated fat establishment we could find in town which was Subway and a 12″ Tuna salad went down rather well (on Italian herb bread of course) with Sue opting for 12″ flatbread turkey salad.
A two mile ride to the hotel was then required which ended up being mostly uphill but hey, we did 80+ miles the other day, we didn't care.
Elevation of Belen is 4932ft and we are coping just fine.
Off to introduce myself to mr Budweiser in a mo so signing off, speak soon all, keep the feedback coming, love receiving it, it really boosts our spirits.
What the hell is that !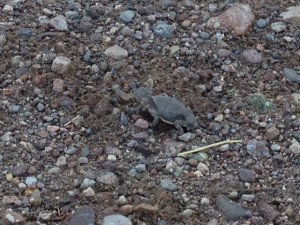 For the observant ones amongst you you will notice that attire has not changed since day one, fear not. Clothes are being washed at every opportunity before we hit camping time in a day or so.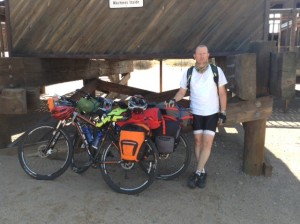 Day 9 riding, day 10 chilling and being tourists in Albuquerque 
Yesterday's ride from Belen to Albuquerque was pretty straightforward and went without any major hitches.
39 miles so a fairly easy day in the saddle given it was all on road and relatively flat in comparison to some of our more recent days but the climbing will really start in the next few days as we push north towards the New Mexico/Colorado border and also look to move more off road and isolated, heading north to the Rocky Mountains is the plan.
Heat was an issue yesterday with a few degrees higher feeling really warm but we crashed through the 300 mile barrier as we came into Albuquerque which felt like a real achievement but none of us have any idea why, 250 miles felt ok but 300 felt great!
Part of our route took us along the historic Route 66 (the pre 1937 one apparently) which was nice and also through an Indian reservation.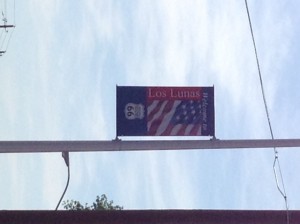 Route 66 through Los lunas
Now if you're like me you would have been expecting to see horses, wagons circled in a defensive formation with bareback riders kicking up dust falling off one by one as they are picked off by Winchester repeaters – not a bit of it, as we rode up the hill there was a Vegas style hotel and casino resort with golf course – talk about shattered illusions, how the world moves on from your childhood eh!
The one major benefit of this modernisation was a fully stocked gas station at the top of a particularly annoying climb so the 16oz can of Starbucks frappachino fortified with ginseng and other stuff went down rather well!
We rolled into Albuquerque having booked a hotel just on the other side of the historic old town so on riding through the traffic and finding our way, we came across a coffee shop which was just begging to provide us with a well earned afternoon sandwich so we didn't let it down, enjoying a good break here before checking in and chilling out.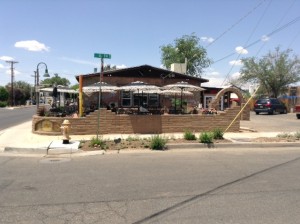 Our very nice coffee shop on arrival
Very tired last night but a really good long sleep so we are ready for a wander and more prep for the kit today – need to sort tubes, kerosene for the stove, possibly tyre liner to protect the tubes from the goat heads that are going to come our way when we move off road.
I would imagine that mileage is going to drop like a stone once we get more into the mountains and off road but we will see.
Final piece to report, Chris and Tommy have decided to call the ride a day here in Albuquerque and are looking to hire a car and do a road trip for their last week or so, flying home on the 18th from here so Sue and I will be riding alone from now onwards.
Road kill count quite low, one cat and one dog, that's about it.
Oh, that prehistoric looking thing from my last blog was a horny toad, not a toad but a lizard but hey, I don't make the rules!
Day 11
Afternoon all, day 11 here and have arrived in Bernalillo as planned.
so, whats been happening the past couple of days, I know you can't wait to hear so let's not keep you in suspense any longer.
First things first yesterday, the whole issue of moving off road at some point over the next few days was causing me considerable concern as we still hadn't really felt like we had got a handle on the issue of goat head thorns and how they could very quickly completely ruin our trip as you can pick up to 20 or 30 of these things on a single wheel rotation and with that many punctures to repair, relying on slime or latex filled tubes just feels like a fingers crossed scenario.
We did our research and got a couple of recommendations from a couple of other bike shops which were more your touristy type ones to visit a "proper"
bike shop and they both came up with the name of fat tyre bike shop on the north east side of town.
Off we trotted, well rode obviously, and we couldn't have been happier with the recommendations within about one minute of walking in.
The man was tony, a pro downhill bike racer who had more experience of goat heads than the eldest elder in the old part of the old town of goathead.
What he didn't know I have no idea but it felt like it wouldn't be worth knowing so, putting our full faith in him and explaining to him how mad we were we discussed a solution tour problem and came up with lining the tyres themselves with tyre tape but particularly heavy duty stuff and whilst he would not completely promise, he was a certain as possible that, in his own experience, goat heads would not get thought this stuff! 
What it did do we found was make the ride a fair bit stiffer but this was a small price to pay for the peace of mind that we could now ride pretty much unaffected by these little pieces of hell.
2 hours in the shop just chatting and picking up a few local knowledge bits of bike maintenance such as how to remove a presta value that shouldn't be removable to get slime into your tubes (you're gripped I can tell).
They were impressed with Gibbs and how our bikes were coping so we felt further reassurance from that.
They were kind enough to give the bikes a quick once over and an adjustment of both derailleurs and confirmation that one of sues front pistons was a bit sticky (I've been telling her the same for years!)  and we were on our way with 4 free spare tubes which hopefully would not be needed further in this trip, like a couple of happy kids leaving school for the summer holidays.
An IHOP brunch later we were cycling around the cycle paths of Albuquerque having a little look around, thought the university (if you're going to go to in in the states you could do a lot worse than NMU) and back to the old town after a few hours to find a coffee shop which turned out to be  a great place to stay for dinner too before meeting chris and tommy for farewell drinks.
The coffee shop dinner place had a really cool waiter ( another tony!) which we spent ages chatting to and testing the various wines he wanted us to try (we had to be forced to this of course but it was only polite to oblige!)
When we got back we realised that we had cycled 14 miles on our day off – as we getting slightly obsessed with this cycling lark, hmmm, I wonder.
Today was always going to be a strange days cycling as the town of Bernalillo was only 21 miles away, not really enough for a days cycling but the next days destination (tomorrow now) is a further 45 miles away and a with a considerable amount of climbing involved, Albuquerque to Jerez springs was never really a realistic proposition. 
Oh, an apology to all you spot me fans out there (I think there are at least
2 of you!) but I forgot to turn it on until a few miles into our riding today – my bad!!
Cycling on our own felt strange, the trip to Bernalillo was, as I say, a fairly flat one and a coffee shop appeared fairly early on which resulted in yet another cool conversation wit a Vietnam war veteran from Canada and his just as cool dog called buddy.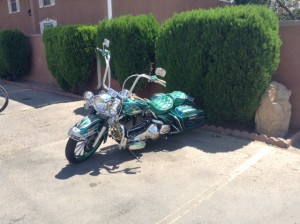 Just had to stop to take a piccy of this one – a customised Harley Davison electraglide , remember playing top trumps with this one 🙂 the owner came out when we were looking at it so had a good chat with him too! 
We got overtaken at high speed by a couple of very serious road cyclists on a racing tandem, pah, we could have gone that fast if we weren't all loaded up wit noodles and kerosene for the coming days.
We followed the rio grande river out of Albuquerque which was a nice ride alongside it n cyclist specific paths looking at many beautiful houses with horses absent kept on the land, the very monied part of the city you could tell.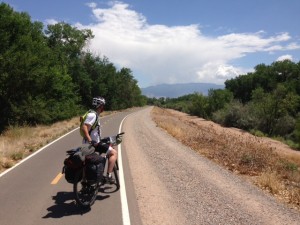 The bike only road out of Albuquerque
10 minutes after our arrival at the days inn in Bernalillo the heavens opened sour decision to split the riding was further justified. 
That's about all for moment folks, looks like the ashes is back on – come on belly and broady, looking good boys and good for broad not walking, trott wasn't out yesterday and none of those Aussies would have moved! 
Can't believe we are half way through our time away, its gone so quickly so far despite the effort but that's getting more and more straightforward each day – those could be famous last words as we look to head out of New Mexico and into Colorado with Los of climbing to come so loom put for lower mileages each day and me munching on my words rather than noodles when we start camping more and more.
This trip is very much turning into one of meeting people and sharing conversations, people are so much more interested to  when you are on bikes and want to know what you are up to.  
Bernalillo elevation 5,072 feet
Day 12 – Bernalillo to Jemez springs – SNAKE DAY 
So, the trip so far has taken us north from El Paso in Texas to las Cruces New Mexico, to hatch (scary Pete) to truth or consequences, the slog to Socorro, to Belen (the dogs) to Albuquerque to Bernalillo to here at vista Linda just short of jemez springs and we are starting to feel like it won't be long before we are leaving New Mexico (which is the 5th largest state in the union – name the other 4?) and crossing the border into Colorado.      
Probably another 4 or 5 days riding should do it as we are now in mountainous territory and the going is getting harder although that seems to have been counteracted by the fact that we are getting fitter as we managed 40 miles today without any major issues or incident. 
Plan from here is probably to Los alamos tomorrow which for you trivia fans out there has the largest concentration of millionaires in the USA (per capita) as a result of it being the place where the atom bomb was developed and is full of PHD type people.
You might have seen it in billy connollys Route 66 programme as he took a detour to here , Abiquiu the following day, possibly Chama or more likely Terra Amarilla and picking up the divide route from north west of Chama into Colorado, heading along the divide route then as closely as possible and north towards steamboat but unlikely to get that far but we will see.
So, what's happened today? 
Alarm set for 5 so we could start the ride in the morning before the real heat of the day and it proved to be a very good move with the first 6.5 miles out of Bernalillo being uphill all the way and the rest of the day not proving to be very different. 
Two cracking pieces of road kill on the climb, both coyotes (neither particularly Wiley I would suggest) and we knew we were approaching them about 20 yards before we came across them, the smell was absolutely disgusting and given we had a headwind going up hill, we were treated to the smell for a little longer than we wanted.If that's the smell of death you can damn well keep it, like a cess pit in the heat, nasty nasty nasty.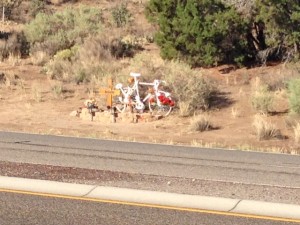 Came across a timely reminder to take care on the roads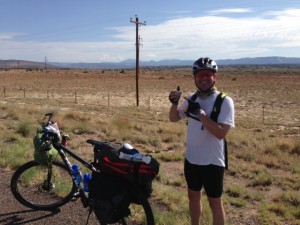 Did I tell you Gibbs was a great lubricant 🙂
We took the right turn off the 550 at San ysidro towards jemez and jemez springs and promptly encountered our next "dog chasing bike" incident.
I can tell you, mr bear spray was out quicker than quick draw McGraw and I somehow think that mr nasty dog knew what was in my hand as he backed off as we cycled into the haze.
The whole area is basically a dormant volcano and the idea is we were riding up to the top of it, along the rim to Los alamos and then back down (hopefully down) through Espanola (everyone we had come across has said don't stop there, just ride on through)
Stoping at the jemez Indian reserve visitor information, we needed to know which camp grounds were open and which weren't due to the fires and we had a choice of one 6 miles up the road (giving us 40 for the day) or one 25 miles up the road – hmmmm, tough choice given the terrain!
So, here we are at the one 6 miles up the road – it's a campground, not a campsite as we would know it so it has long drop toilets and a little shade on a first come first served basis (we have some shade!) and that's about it – no pool, no cheeky little shop to buy rotisserie chicken and pomme frites, no cold beer, no sir, just a place to pitch a tent but that's cool, that's all we really needed for the night.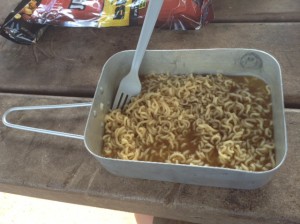 Mmmmm, yummy pork flavoured noodles 
Holing up from the heat of the day at the moment and when it's gone we will get a brew on and cook some noodles – Sue has chicken flavour again but I'm being daring tonight and trying the pork flavoured ones, as you can imagine we are beside ourselves with excitement.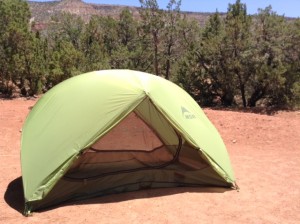 Home for tonight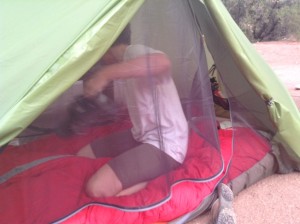 Room for two sir?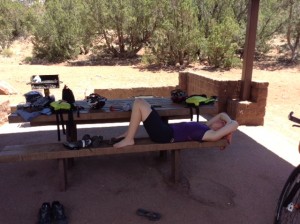 The shade we have nicked as we arrived before all those smelly other people 🙂
Mileage count 380.19
Ok, if this doesn't get your blood flowing then nothing will , listen very carefully, I will say ziz only once.
Last night we turned in around half eight as the sun was going down and spent the next hour or so, just listening to all the sounds around us, not getting too scared but just listening, not like France, st jean de monts listening to crickets and smelling the pine forest no more your sort of 'what's that noise' type listening.
Then, suddenly, two gun shots, yup, I kid you not two gun shots – picture the scene, two Brits in a little tent sh**ting themselves wondering what the f*ck was gong on, wondering whether mr bear spray would be any match for a .44 magnum, possibly the most powerful handgun in the world (ok, so I'm getting carried away with the actual gun but it was two gun shots)
Head poking out of the top of the tent zip, I saw one of the other campers walking up to where the gun shots came from and gathered the courage to do the same.
What had happened was the camper up the top had shot a rattle snake! Twice! We got up there and he was holding it in the moonlight (no I'm not trying to be romantic), around a 4 footer, scary stuff. As you can imagine we slept like babies 🙂
On the road to the site from the centre we came across the coolest road kill in the world, possibly the universe, check this out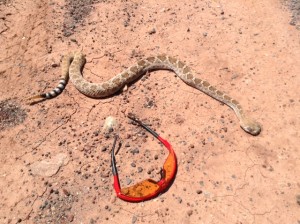 A diamond back rattle snake! Sue killed it with her bare hands in saving me from its fangs as they were about to enter my neck
Ok, ok, not quite true, it was deaded but pretty cool all the same and my shades are there for scale – it was 35 feet long, well 3.5 maybe 🙂
Day 13 – CLIMBING DAY 
We woke this morning around 6 and suddenly realised where we were – in a tent on a crazy gun toting campground having had so little sleep we just couldn't wait to get the hell out of dodge.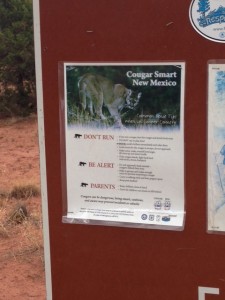 Some sensible advice at the campground
Decision made to have a cup of coffee and some porridge was a good one as we needed all the help we could get today as we knew that we would be heading up, it's the climb from hell and we were not looking forward to it.
We packed up and set off and quickly found we weren't to be disappointed. 
We had camped at around 5,800 feet altitude and were heading up to 9,000ft before heading down again into Los alamos with the whole of the climb being from the campground so it was nothing but hard work from the start.
we soon encountered a live snake on the roadside, not a rattler but about 6 ft long and yellow and black, slim and just warming up in the morning sun so nothing to worry about.
The speedo rarely got above 4.5 and 3.4 was a fair average for the climb which lasted for the first 15 miles of the ride, yup, 15 miles, steady relentless, slow, hard work to the summit, we really had to take it to the limit of our abilities with this one in order to not want to get off and walk at any point.
At one point on the climb, we passed a local walking down (not sure where to!) and he said "great job" and gave us both a high 5 as we were riding! Slightly weird but nice at the same time.
Three and a half hours later along the long and winding road up the side of the volcano we got ourselves somewhere near to the summit of where we wanted to be, climbing around 1,000 feet an hour and thinking that our climb out of Bernililo the previous day just wasn't worth even talking about.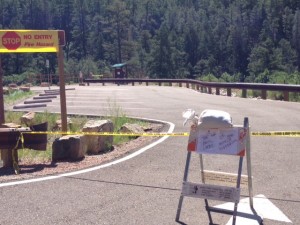 Half way up the climb, read the words, pretty apt and made us laugh
As we got to the summit, well the rim of the volcano, the storm clouds that were gathering behind us decided to try and catch us up and it started to spit big spits.
As we free wheeled downhill the rain got harder and harder and by the time we got to the bottom of the first main part of down it was raining so hard and the lightning was flashing around us that we decided to stop and wait it out, putting on out waterproofs as quickly as possible but still being soaked to the skin.
Standing there became more and more frightening as the lightning kept on coming and the thunder was nothing liked had ever heard before, like a real tropical storm, as heavy as you like and as loud as can be.
We got passed by numerous cars heading onto lol alamos or beyond as that was the only destination along the road we were on and we we feeling less and less secure where we were but with few options other than waving a white flag.
Sounds like some kind of made up story (bit like the snake one from last night) but i promise you its true, a car stopped and asked if we wanted to sit it out in the back.
Kevin and Jacob, father and son, had been climbing nearby and decided to call it a day when they saw the storm coming.
We sat in the back of their car, eternally grateful as it was getting cold as well and chatted, finding out that he was a mountain biker turned road cyclist, living in Albuquerque who would have been grateful for someone stopping for him in the same situation.
As the lightning cracked around us and the rain and sleet came down Kevin unbelievably offered to put the bikes on the back of his car (he just happened to have a bike rack!) and take us to Los alamos!!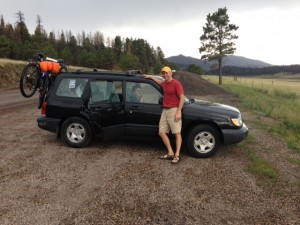 Our saint and his son with our bikes on the back, cannot thank him enough
So kind and an offer there was no way we were going to pass up, pretty much the whole of the drive there the rain continued with only a let up as we came into view of the plain created by the crater of the volcano (its one of only 3 super volcanos in the states, another being Yellowstone state park) and this crater was 12 miles across!!
Coming down the side of the volcano into Los alamos there was evidence of the heavy rain with rocks and debris all over the road which would have been a difficult ride even down.
As we arrived into Los alamos, the place felt slightly weird, even needing ID to get into the town, kevin suggested he drop us at Starbucks, from where we could find ourselves a hotel and take it from there.
Kevin is now saint Christopher in our eyes, no idea how to thank him enough for his kindness but buying him and Jacob a Starbucks seemed to be enough for the moment, one of those guys that if he and his family were ever visiting the UK you would happily put them up.
I have long held the thought that I would quite enjoy living In America but I'm not too sure now, maybe holidays only, who knows?
Settled into the comfort inn in los alamos now so feeling a lot more secure after last night and today so a reflection day tomorrow and plans to head north towards Colorado come Tuesday morning.
: Day 14 – LAZY DAY 
"I'm quite jealous of the days ahead of you.   Northern New Mexico is extraordinary.
There is a reason that Georgia OKeefe (and many others since) have settled in Abiquiu."
A quote from a New Mexican native, our very own St Christopher which has made us look even more forward to the next couple of days
Plan tomorrow is to leave Los alamos not too early as the weather forecast is generally overcast all day (Kevin, we will let you know our route in case we hit a lightning storm!) so we have no real need to beat the heat of the day and head for Abiquiu we have sourced the most perfect camp site, nothing at all like the snake gun one, one for cyclists only and in the garden of a lady's house, "the old Abiquiu b&b", about 45 miles away.
From there, on Wednesday we head to Chama which could be a bit of a slog as its touching 60 miles and a reasonable amount of climbing but its nothing like the volcano from yesterday 
Once in Chama we will assess our position as should we head off road onto the divide, which is the plan at the moment, we will need a few days independence for food and possibly need to carry more water that we have been (due to contaminated stream water) but we hope to be able to update you subject to WIFI coverage so don't be alarmed if you don't hear from us (you'll probably be pleased not to!)
Oh, have you seen the Albuquerque weather? Course you haven't but its chucking it down and there's more to come, glad we left that behind as there are flash floods and the diversion channels are doing their job.
Today was spent relaxing and washing Lycra, we visited the science museum which was pretty moving as its obviously all centred around the history of Los alamos and the development of the atom bomb and WWII.
Update for you on the wildlife from previous mails courtesy of St Christopher 
1) The arachnid that you showed is called a Vinegaroon.  Related,as you guessed, to scorpions.   They are not poisonous, but when bothered will spray acetic acid, which is the acid in vinegar, hence the name.
2)  The reptile is what we call a "horny toad", though it is not a toad or a frog.  Actual name:  "Horned Lizard". They are getting to be pretty rare. I used to catch them all the time as a kid.   Also not harmful, but some can shoot blood out of their eyes to scare off predators.
3) The Very Bad Transvestite (really, really wish you had a picture) is indigenous to and common in New Mexico. They tend to frequent east Central avenue in Albuquerque.   Higher quality transvestites can be found in Santa Fe.
Early night and moving north tomorrow
Day 15 – Los alamos to Abiquiu 
A good 45.5 miles done today and the first 9.5 miles was the easiest 9.5 miles you will ever do! All down hill without needing to spin the pedals once! Vey bizarre given the 20+ mile climb up the volcano but a very welcome freewheel.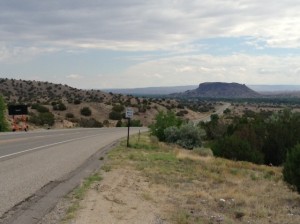 Lovely lovely decline. Spirits are high , looking forward to entering colorado as our state of return.Managed to avoid the forecasted storms for early afternoon too.
Wonderful,views of the valley on the way down and sort of pleased to be leaving Los alamos.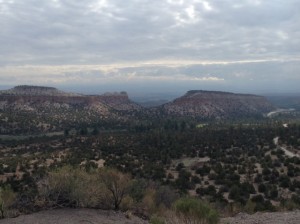 The view coming out of Los alamos
A strange place but difficult topic your finger on, almost  automated people, all keeping themselves to themselves and no one being particularly sociable.
Apparently, along with all the money and PHD's it has one of the highest rates of domestic violence and alcoholism in the states – kind of believable, everyone being smarter than everyone else and everyone wanting to be the smartest!
Our ride was to take us through Espanola which, according to everyone we had spoken to was a place to to stop!
On the way we called in at a gas station to see if w old get a detailed map o our route north in Colorado which we Did.
As Sue was inside (being chief mappage person) I guarded the bikes and into conversation with an old native Indian man who showed a lot of interest in our escapade and regaled me of stories of spirits in the mountains, talking bears and magic dust which he went to his car to get to show me, his name was Ken by the way, had no front teeth and was lovely
One tiny dog chase running into Espanola but mr bear spray didn't even leave his holster – am I getting braver or more stupid, or both?
We rolled out the other end of Espanola without being mugged, raped, sold into prostitution, slavery or domestic service so with adrenalin flowing we pressed on to Abiquiu and in search of our campsite or the night.
All goes pear shaped here (well not really when you think about given you are about to make a choice between a campsite that's not open and a very pleasant inn that has good food and good wine!)
What a result and my man juan on reception allows me to negotiate the price on the room to a point where we get a good meal and bottle of wine and the room for the same price that the rooms meant to be – is that free food and wine? Technically yes 🙂
Total miles up to 447.95 today and would have been more if it hadn't Been for that pesky New Mexican insisting we got in his car in a lightning storm!!, Picture of that plant we were discussing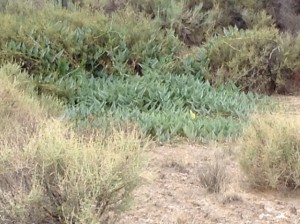 Kevin one for you to identify please
Road kill a single snake so a fairly quiet day all round, maps out on the bed as I type, sorting the next few days so speak soon.
Day 16 and day 17
Evening all, sorry haven't been in touch for a couple of days even a bit of a strange time as trying to sort out our route.
Let me explain, a you know, it mention originally was to get onto the divide from silver City, this would have been impossible following the forest fires anyway, notwithstanding the withdrawal of our American guide, so a re route was required which resulted in us looking to Join the divide much further north at Chama.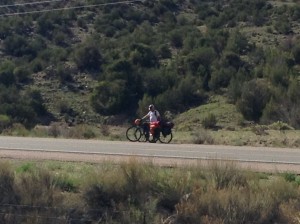 Just a good shot 🙂
Having got writhing sniffing distance of Chama (the stop before before being Abiquiu – pronounced abi as in short for Abigail and queue as in the British love to queue) we got the maps out and spent some time pouring over where we were going to head for from Chama.
What we discovered was, that as a result of us travelling on our own and not having an experienced guide, our travel insurance would not allow us to bike above 10,000ft and whilst we know this a couple of days before we left, we thought that 10,000ft would be fine for at least riding a bit f the divide and getting ourselves to Denver area as sort of planned.
How stupid would it be to bike above 10,000ft and something were to happen, especially in the states as it would have the potential to run anyone for life financially so revised plans (again) were required.
Having poured over the maps, we found that the only route north we could take to avoid the height problem was to move east to Taos and then north from there towards Denver so following a very pleasant night in Abiquiu we headed back down the road we had cycled the day before for 15 miles an then turned east towards our planned stop of Ojo calente some 40 miles away.
What we didn't realise was that in ojo calente was one of new Mexico's most famous spa hotels which we felt it would be rude not to stop at for the night 🙂
We arrived there early afternoon and checked in and then proceeded to act like proper holiday tourists for the rest of the day and didn't care that the tent and sleeping bags were staying on the bikes!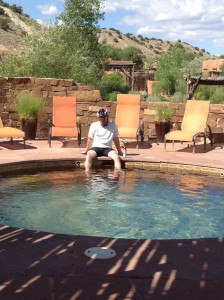 They most certainly are!
We moved from the iron plunge pool to the soda pool to the mud pool to the sauna (having had a delicious lunch and a couple of margaritas for good measure) and felt like we were relaxing nicely.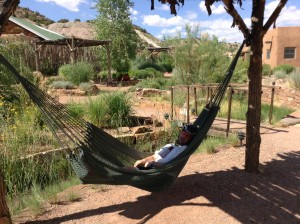 The camp sites are improving 🙂
We spoke with a lovely lady from Denver in the iron pool who believe it or not used to breed Irish setters!
We also spoke at length and very interestingly with a man who used to be a ranger and a green beret, had worked with the SAS in Belize and was und Oliver norths command during the Nicaragua contra issues n the early 80's.As you can imagine a fascinating conversation for a hour or so before we all needed to move off and evening was calling so a good burger and bottle of wine were the order of the day.
An early night and a plan to cycle to Taos the following day which has proved to be a major undertaking but one we have successfully achieved.
Setting off for Taos begun with a 12 mile climb and a very warm day so we took it easy and it proved to be very hard work, 12 miles constantly up hill just ain't easy.
A turn east would look to take us towards the rio grande river canyon which we would need to cross to be able to cycle trough Carson (kid Carson fame) and onwards towards toad some 45 miles away.
The turn east was a welcome relief as It resulted an nice 3 mile freewheel towards the rio grande valley.
When we got there we were just gob smacked wit the Beauty of the place, a baby Grand Canyon and we quickly realised that there was only one way to the other side, cycle down into it, cycle 6 miles along the canyon floor and then cycle up the other side.
The cycling down was relatively straightforward even though it was in paved road so basically dirt track, once a the floor it became paved after a while and followed the rio grande river so we stopped to dip our feet to cool down before beginning what can only be described as an attritional 8.2 mile climb up the ether side which actually felt harder than the 29 miles we did up the volcano  toward Los alamos the other day.
We made the top feeling very proud of ourselves and unknowingly the view would have made it worthwhile, unbelievable beauty and I trust you can get just some idea from the pictures below.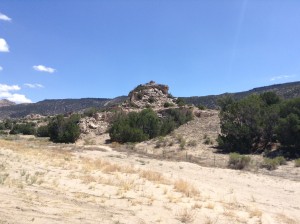 Rock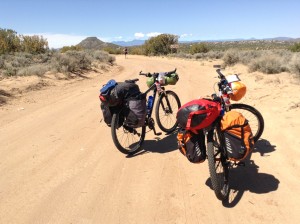 Just a good piccy of the bikes
What we did achieve today on our ride through Carson before we go to the rio grande canyon was a magical 500 number, 500 miles on the trip so far, feels mad tha we have done tha much I this heat but feeling very proud of ourselves.
In the bottom of the canyon we met 3 girls from Vancouver who were hiking and thought we were South African , made a change from Australian I suppose!!
The kindly gave us some fruit as they felt that we would not have been having enough and saw us on our way
Just before we began the climb out of the canyon we stopped for a cold can at a shop (shack) and a local lady pulled up, looked a us and the bikes and declared she was jealous – transpired she was a cyclist who lived locally and gave us some useful information for our trip north to Denver.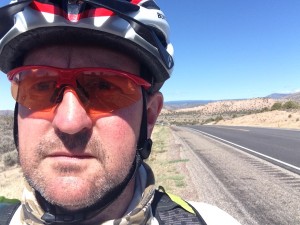 Ugh! Needing a shave at the top of a nasty climb
We made it to Taos around 6.30 pm and I rolled int town with a rear puncture – yup, a rear puncture with a tyre that has Kevlar tape protecting it!!!!
We had researched Taos last night to make sure it had some motels but when we arrived all we full apart from the quality inn at the end of town so we are safely ensconced now with the prospect of a ret da tomorrow as today has really taken it out of us.
Total mile count is now 526.09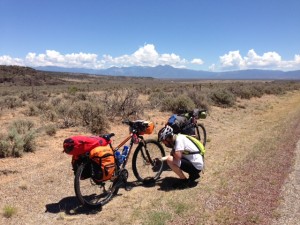 A quick spray of Gibbs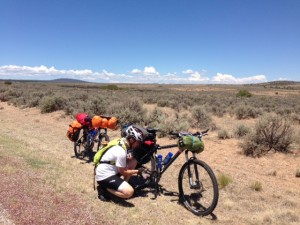 Lubricate the chain with Gibbs and we are ready for another 500 miles
Day 18 
-turned into a rest day and a needed one following the exertions of the day before with the heat and the climbing, a bit of time out was required and it was a pretty boring day for news, bit of bike maintenance, sorting supplies and checking route for the following couple of days as another big effort was going to be required in order to push towards the Colorado border for a number of reasons , principally the heat, the distance and the climbing – three familiar friends we seem to have been carrying with us for a little while!
Forgot to mention that on day 17 (nope, I'm not going to mention another dog incident although they are getting very wearing and increasingly worrying) as we were coming down into Taos, about 3 miles out, riding along the shoulder we spotted a knife, flick knife type thing, pretty nasty looking thing so we thought it would make sense to bag it and hand it to the police at the earliest possible opportunity being good law abiding Brits. 
Whilst we were doing this we saw about a half mile or so ahead a police car stopped on the hard shoulder with its lights flashing so thought it would be an ideal opportunity, although as we got closer we saw that he had just stopped a car and looked busy so we rode on past deciding to leave it till later or in the morning. 
We ended up leaving it to the morning and we duly handed it in at the police station, told our story and received a hearty thanks from a very nice officer – never know, could have been a waste of time but could also have been important it was a nasty knife with a bent end to the blade and dirty too so had been used for something but at least it's one knife out of the wrong hands. 
A big storm that started late morning and carried on until mid afternoon vindicated our decision to have a rest day, notwithstanding the fact that if it had been beautiful we would have done anyway!! 
That's about all to report for day 18, early bed as early start in the morning wanting to be on the road by 7 in the morning. 
Day 19 
We knew we were going to have a hard day today as the plan was to ride around 65 miles from Taos to Antonio (Colorado!!) and we know from our research that the elevation of Antonio was touching 8,000ft with Taos being just under 7,000ft and we knew from experience that 1,000ft of vertical elevation did not translate into a simple 1,000ft of climbing. 
We were both pretty excited about leaving New Mexico behind as, whilst it had its own rugged beauty, it also had incredible heat and a frightening amount of loose dogs which whilst frightening, were become increasingly wearing on us both in terms of our personal safety and general well being.  
We approach pretty much all dwellings but particularly the ones you can imagine as trailers on 'dog alert' which involves Sue making us whisper and changing gears quietly whilst scanning under cars and caravans which seems to be a favoured hiding spot for fido and his friends!!! 
The early ride out of Taos was lovely, a crisp morning and the first 5 or so miles lulled us into a particularly false sense of security of an easy ride and a cool day to ride it in. 
Our illusions were soon shattered as the day started to get warmer and warmer and the terrain started to….well, head up! 
In addition to this, once we had passed over the rio grande bridge, the road got straight and by straight I mean STRAIGHT. 
Couple this straighty straightness with a rolling, undulating rise in elevation for mile after mile after god damn mile then you get the idea – boooooring! staring at a white line and turning the pedals. 
As we got nearer to Colorado the landscape changed noticeably with more green filtering into view and more trees breaking up the landscape. 
After about 56 miles of this we started talking about the Colorado border and wondering if it would be marked in some way, just for us, to mark the fact that we had cycled the entire length of New Mexico, not for anyone else, just us 🙂 
It came into view, a huge great sign announcing the fact that we were about to enter Colorado and a small one saying we were leaving New Mexico saying hasta la vista (with no baby on the end of it!) 
I cannot explain the depth of the happy feelings we felt and I am not sure why we had them but we were so happy to be out of New Mexico, it had been a lovely state in many ways and paradoxically one which gave us many scares that we were desperate to leave behind.
Immediately we passed the welcome to Colorado sign we came across gofer holes all along the road and lots of little faces checking us out as we rode past – so cute! 
   We made it, no more New Mexico!
We cycled with new vigour for our destination of Antonito and after a total ride of 65.08 miles (thats 104.128 kilometres for your benefit Buckers! – are you impressed yet?)  we arrived bright eyed and bushy tailed (ish). 
Antonito was made famous by Indiana jones and the last crusade as its the place where the young Indy has the train fight in the opening sequences and the house where he runs into to announce to Sean Connery that he has the cross – that house is now a hotel and we tried to stay in it but could only get its sister hotel, the station hotel (picture below) I say hotel, what I really mean is a particularly tired but quirky guest house which we only found out this morning is haunted!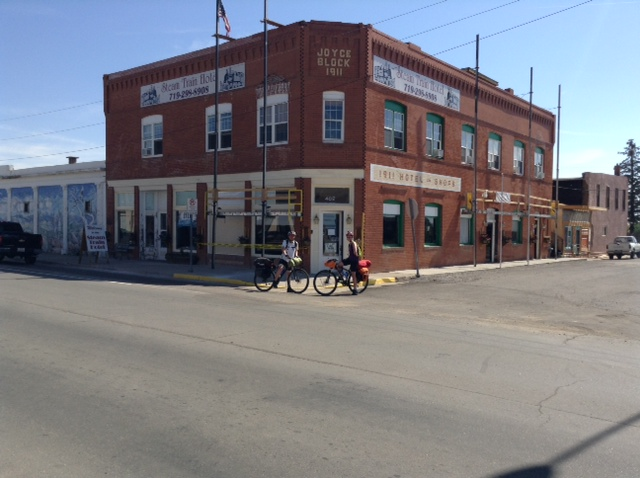 Our haunted Hotel for the night.
Had we known we would have foregone the showers and the pillows and got the tent out on the roadside! 
A lot of these smaller towns are very strange, like they have been left behind in their own little time warp with people to match – don't get me wrong, they are all generally lovely (with the exception of scary Pete in hatch) and so many are interested in what you are doing – we decided that having a loaded bike was like having a cute baby or a little puppy, people want to talk to you and want to know where you've come from, where you're going and we have seriously lost count of the number of people who have waved us from the roadside (the ones without dogs) as we pass or their cars as they pass us in either direction, it makes you smile, lifts your spirits and makes the effort a little easier. 
But the towns seem left behind,I suppose its not for me to say that being left behind in a simpler way of life is a bad thing, who am I to judge, its just a statement of my observation that they seem abandoned and are being kept barely alive by the people in them, sobering. 
    The town square!
We checked in and had a hot bath to get some life into our weary legs and had a lovely meal at a little place (one of 2 in the town) over the road from the hotel, family run and whilst again feeling like a tired little tea shop somewhere in the Cotswolds when you walked in was probably the nicest meal from the most genuine people all trip. 
Back to the hotel and with no television reception in the room, started to watch…… Yup, Indiana jones and the last crusade on the DVD but gave up after about 40 minutes as too tired. 
Asleep by half 9 and the day was done. 
Mile count was 592, (947.20 kilometres Buckers) tantalisingly close to 600 miles which is regarded as a magical sort of figure by us for no particular reason! 
 
Day 20 
We woke at a kind of reasonable hour as we knew we would only be cycling 33 miles or so today as our destination was Alamosa, a bit of a gateway for us as geographically it gives us the opportunity to seriously consider whether we carry on riding to Denver or look to possibly get a shuttle and an earlier flight home if possible given road riding is not what we came for and we have achieved so much already in our own minds that further riding north on hard shoulders of various guises might just be pointless and would avoid any more dog situations or even just traffic which can be daunting when the sound of a truck on rumble strips is too close!!! 
A lot of this we will see about tomorrow and make decisions from there as if we are unable to change flights we may just head up to the forests between here and Denver and find some safe camping (you know the sort, no shotguns, rednecks and rattle snakes), chilling out for a few days there, who knows, watch this space.
Anyway, back to day 20, flat ride to Alamosa of 33 miles so a breeze compared to what we had been doing and a lovely wide hard shoulder for us to ride side by side and chat. 
We came across a signpost for the oldest church in Colorado so detoured for a look and on the way out were followed by a really sweet little dog (makes a change!) who decided she liked us and ran alongside us for a while.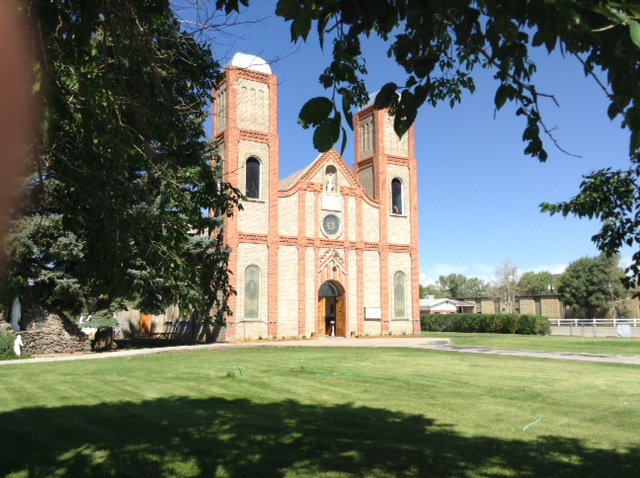 Yup, the oldest church in Colorado 
As we were headed back to main road we needed to turn back and get her back somewhere near her home so after a couple of attempts we managed to shake her and leave her where she should be, very sweet. 
Colorado was nicer, more green, more horses and cattle to look at and just generally calmer to ride and we rolled into Alamosa mid afternoon. 
Reassessment day tomorrow, in touch with BA and see where that leads, will let you know.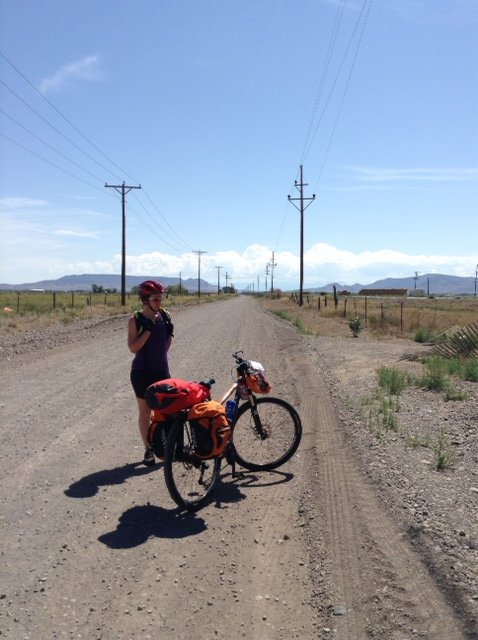 Just a cool picture (I think!)
Total mileage now 624.99 (that's 1,000 kilometres Buckers)
Day 21
We woke at a kind of reasonable hour as we knew we would only be cycling 33 miles or so today as our destination was Alamosa, a bit of a gateway for us as geographically it gives us the opportunity to seriously consider whether we carry on riding to Denver or look to possibly get a shuttle and an earlier flight home if possible given road riding is not what we came for and we have achieved so much already in our own minds that further riding north on hard shoulders of various guises might just be pointless and would avoid any more dog situations or even just traffic which can be daunting when the sound of a truck on rumble strips is too close!!!
A lot of this we will see about tomorrow and make decisions from there as if we are unable to change flights we may just head up to the forests between here and Denver and find some safe camping (you know the sort, no shotguns, rednecks and rattle snakes), chilling out for a few days there, who knows, watch this space…………….
Ok, so the space has been watched, we have been in contact with BA and have managed to bring our flights forward to Wednesday evening this week, 24th so are making all preparations for that now, bike boxes have been acquired, gear borrowed has been boxed and shipped back to its rightful owner (mike in west Lafayette!) and we are feeling as though its the right thing to be doing.
As I said yesterday, more travelling the hard shoulder and through "villages" populated by dogs that would be banned at home chasing us has become sufficiently wearing for us to decide to call it a day and head back to blighty with our heads held high, our spirits strong, our off road tyres worn, our bodies tired and happy that a couple of charities are a little better off than they were before we set out so job well done given the circumstances and the last minute changes that had to be made due to circumstances beyond our control.
Thank you so much to everyone who has supported us with a donation or with an email of support, this trip has been so much harder than we imagined and also so much harder both mentally and physically than our trek to base camp so thank you all, you have helped more than you know. 
We have some great memories and have met some amazing people along the way – travelling by bicycle is a great way to see a country and certainly in a way you wouldn't passing through in a car. 
We have experienced genuine warmth and interest from so many different types of people along the way that wanted to help, listen to our plans and just while away the time over a coffee – it restores faith in human nature.
Signing off from Alamosa, Colorado and see you soon xx
Colin & Sue McNaughton