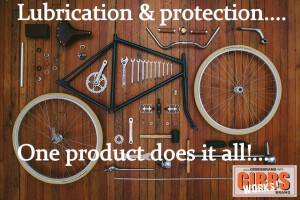 NO NEED TO SPEND A FORTUNE ON SPECIALIST PRODUCTS!
Gibbs Brand CLEANS & PROTECTS: the frame, the wheels & even the seat!
Gibbs Brand LUBRICATES: cables, gear-shift & brake mechanisms & even the chain!*
BEST OF ALL; It's long-lasting and unlike other products; IT LEAVES NO STICKY DIRT-ATTRACTING RESIDUE!*…
*This is particularly important on Mountain Bikes where the ingress of dirt causes premature wear.
See our website for full details: www.gibbsbrand.info.